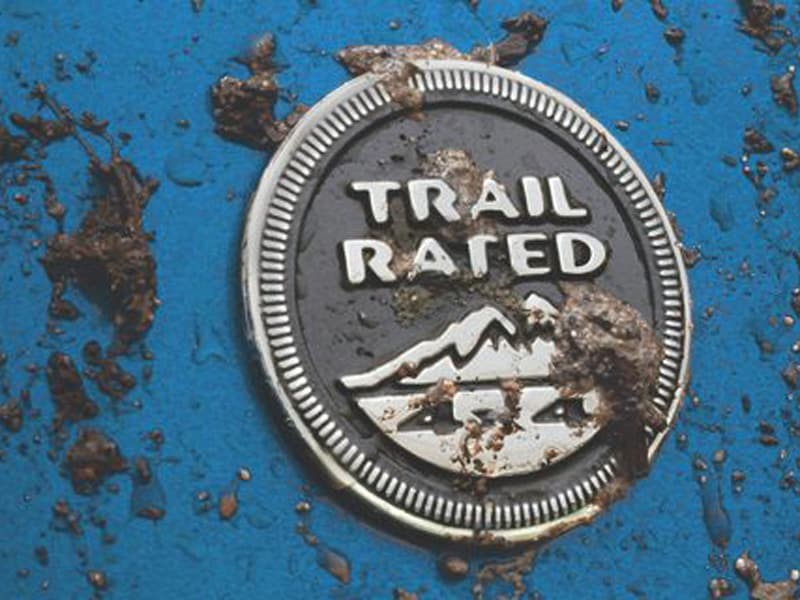 You may have heard the term "Trail Rated" thrown around when it comes to Jeeps, but many drivers don't know exactly what it means or how this classification is awarded. The badge of honor was first used by Jeep in 2004 and is now available for almost every Jeep offered. Being Trail Rated means that the Jeep has a certain level of capability in five specific categories:
Water Fording – Unique features help your Jeep get through a reasonable amount of water, although it's still not fully submersible. Trail Rated Jeeps feature a sealed central venting system to protect the drivetrain components from moisture. This means you can navigate streams or flooded underpasses without facing the same risks for damage or stalling as other, non-Trail Rated vehicles.
Suspension Articulation – Jeep's 4x4 system will help your wheels stay on the ground when one or more of them are elevated, which can help you keep moving. This means maximized flexibility and axle articulation as well as wheel travel.
Maneuverability – This rating includes precision steering, generous wheelbases and superior visibility, which can help you navigate the narrowest of gaps and dodge emergency situations while avoiding cosmetic damage.
Ground Clearance – A Trail Rated Jeep has the ability to climb over large obstacles including logs or whatever else happens to be in your way.
Traction – Trail Rated Jeep 4x4s have enough traction to climb steep hills many ordinary vehicles would not have a chance of conquering. Testing to ensure this rating is performed on slippery roads including wet, muddy and snowy conditions and steep grades.
Having a
Trail Rated Jeep
means it is better equipped to handle going off-road than other vehicles in its category who have not earned the same distinction. The vehicles undergo testing by the Nevada Automatic Test Center to earn this badge and ensure third-party verification of the features Jeep promises to their drivers.
Trail Rated Jeeps in Rockland County
Rockland Chrysler Jeep Dodge offers a great selection of new and pre-owned Trail Rated Jeeps including:
Cherokee
Compass
Grand Cherokee
Patriot
Renegade
Wrangler
Wrangler Unlimited
Be sure to check out our inventory online or give us a call at (844) 920-2421 for more information.