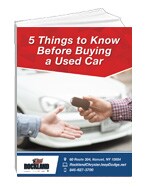 Are you in search of a vehicle for the roads of New City, Nanuet, and Pearl River, NY? Is a used car the right choice for you? Before you buy, there are a few things you should know.
At Rockland Chrysler Dodge Jeep Ram, we provide the used car selection you need to find your perfect companion for the road. But before you buy a used car, we want to help make sure you're getting the right vehicle and asking all the questions you should to get the information you need.
That's why we're providing you with this FREE eBook: 5 Things to Know Before Buying a Used Car. Within this eBook, you'll get answers to some of the questions you may have about used cars and what you should do as you buy a used car and work with a dealership.
We hope you'll read this eBook and then come see us at Rockland CDJR to get the used car that's right for you.