If you're looking for a car in New City, Nanuet, or Pearl River, NY, you're certainly going to be excited by the possibilities of what you can get. But what do you do with your existing vehicle?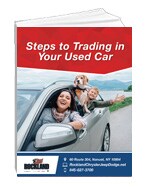 At Rockland Chrysler Dodge Jeep Ram, we're here to help you figure that out. You can explore a trade-in, and we're providing the resources to help you make that decision.
We explain the things you need to know and what you need to do when trading in your vehicle with the help of the free Steps to Trading in Your Used Car eBook. In this eBook, you'll see the benefits of trading in your vehicle and some of the steps that go along with it, including:
Valuing Your Trade-In
Getting Your Vehicle Inspected
Applying a Down Payment
Finalizing the Deal
Take a look at this FREE eBook and visit us at our dealership to start the process. Download your copy of Steps to Trading in Your Used Car today and see why a trade-in can be the right choice for you and how to do it.